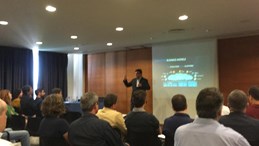 The technical event - "Rolling With a Secure Future" - took place on 3 June, in Funchal, and was attended by about 40 delegates from the largest private and public entities in the region.
Paulo Vieira, Sales Manager at Palo Alto Networks, presented the most recent Palo Alto cybersecurity platforms to Madeiran entities.
"Madeira Autonomous Region constitutes an enormous potential for Palo Alto Networks, since local companies are changing the security paradigm and are willing to implement the best solutions in network management", says Paulo Vieira.
Empresa Elétrica da Madeira
was presented as a case study by its CIO, Davide de Sousa, where all the security audit work and subsequent report Security Life-Cycle Review - SLR stood out, as well as the demonstration of Traps effectiveness in advanced endpoint protection in a pilot group of equipment, works carried out by Rolling Space, representative of Palo Alto Networks solutions.
According to Rita Cardoso, General Manager of Rolling Space, "The market of the Autonomous Region of Madeira is not strange to us, due to the work we are developing at EEM, but we believe that with this type of initiatives we can awaken the awareness and interest of entrepreneurs for these matters, presenting the most innovative and efficient solutions".
The event took place at
VidaMar Resort Hotel
and also included networking and lunch moments with all the speakers and participants.