The light at the end of the tunnel seems to be getting brighter as the Covid-19 vaccination advances around the world. Despite the various setbacks, the truth is that the viability of this vaccine has put a brake on this devastating pandemic.
There are many lessons learnt from times of crisis and it can be seen that, invariably, they are important drivers for creativity, innovation and solidarity, even at the level of Intellectual Property.
The Open COVID Pledge is an example of this as it calls on organisations worldwide to make their patents and copyrights freely available in the fight against the COVID-19 pandemic. The Pledge was originally developed by an international group of researchers, scientists, academics and lawyers seeking to accelerate the rapid development and deployment of diagnostics, vaccines, therapeutics, medical equipment and software solutions in this urgent public health crisis. The project is now led and managed by Creative Commons.
UNESCO itself met with science leaders around the world and committed to strengthen cooperation and universal sharing of data, research results and experiences in order to prevent and mitigate pandemic and global crises, reforming, without precedent, the working methods that generated rapid scientific progress and decision-making and alliances between policy makers, private companies and society, based on scientific evidence and public interest.
In Portugal, Patient Innovation also gave space to the sharing of solutions in healthcare, created to combat Covid-19. This is an online platform created in 2014 and where patients and carers from all over the world connect to share solutions that they themselves have developed, or that they have created with the help of a collaborator, to overcome a challenge imposed by a health problem.
By "giving up" their patent rights, these inventors foster a sense of community and joint efforts to tackle the pandemic.
In addition to the various efforts made by scientists and companies to find a vaccine or develop better tests and drugs, several other products were created whose aim would be to help minimise the problem.
Here, we present 10 (of many) inventions developed in times of pandemic.
1. MECHANICAL VENTILATOR
The "Atena" project, the only 100% portuguese mechanical pulmonary ventilator, was the most mediatized project at a national level. Developed by the Portuguese Centre for Engineering and Development (CEiiA), it even received donations from sponsors, through a 'crowdfunding' campaign and financial support as a loan from the National Innovation Agency.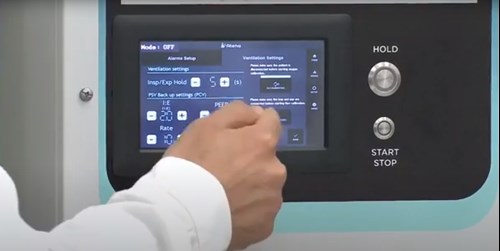 2. ANTI-VIRAL AND ANTI-FOG VISOR
The Centre for Nanotechnology and Technical, Functional and Intelligent Materials (CeNTI), in Famalicão, has developed, among other products, a reusable personal protective visor with anti-viral and anti-fog properties.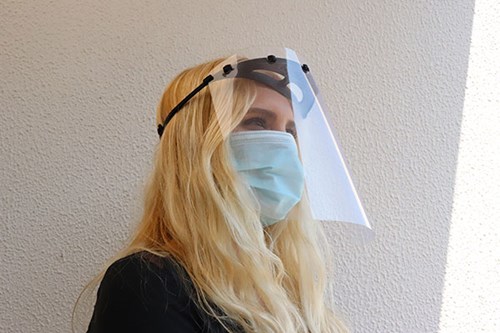 3. RAPID SCREENING EQUIPMENT
EDIGMA, a company from Braga, focused on the problem of rapid screening by measuring the temperature at the entrance of certain establishments, such as clinical centres or hospitals. It has launched the SANUS and the ARA equipments, both products designed from scratch in Portugal. SANUS has a digital screen with awareness and communication messages, in addition to a dispenser with capacity for 5,000 ml of alcohol gel. Besides hand hygiene, the equipment has a differentiating 27-inch digital screen. This assumes an active communication role in the propagation of the messages. ARA works as a kind of biometric authenticator of the visitors, through a 7-inch screen. Its function is to measure body temperature and detect if visitors are wearing a mask. This technology can be used in schools, public buildings, universities, shops, services, among other spaces that require social distancing of their visitors.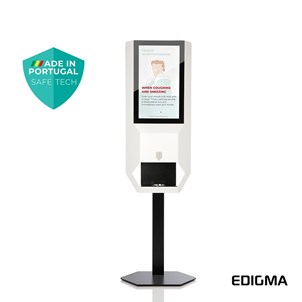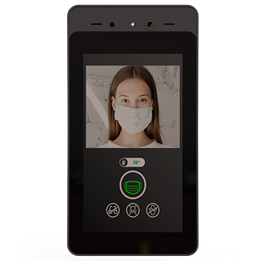 Chinese company Winsun has used 3D printing on an architectural scale, manufacturing 15 coronavirus isolation wards in a single day. The small concrete cabins were originally designed to be used as holiday homes, but the company scaled up production to cope with demand from overcrowded Chinese hospitals at the height of the epidemic.
The buildings, which have eco-friendly showers and toilets, were printed using an extrusion process, with a robotic arm mounted on rails gradually depositing layers of concrete to build the walls. The company says it uses recycled construction rubble in the process and claims its structures are twice as strong as conventional concrete construction.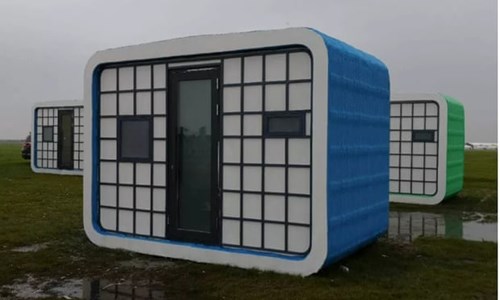 5. DISINFECTION ROBOT
Follow Inspiration is a nine-year-old startup, has several patents in the robotics area registered in the European Union, as well as the United States and Canada. Embracing the challenges presented by COVID-19, the company created the UV Robot, in partnership with CEiiA in Matosinhos, to help prevent the infection of both the new coronavirus and other viruses and bacteria that are in the air or on surfaces. Basically, the robot combines ultraviolet technology with an air purifier, governing itself by autonomous navigation, without any other additional infrastructure. According to the company, the UV Robot does 360º disinfection coverage, moves autonomously on pre-defined routes, and can move between people and activate the UV-C light alone.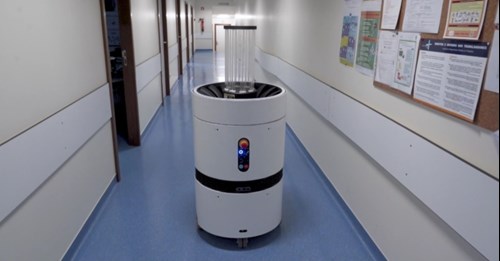 6. DISINFECTION BOOTH
MTEX NS has designed a cabin that inactivates COVID-19 in garments, shoes and other objects. The company from Vila Nova de Famalicão has more than a decade of experience developing equipment for the textile industry.
Named PHYS, it was built in a partnership with the Catholic University and CITEVE - Technological Center for Textile and Clothing Industries and was created by the need to put the products back on the shelves, after they have been tried by customers in the shops. The system allows the disinfection of clothing and footwear in about 20 minutes, depending on some factors such as temperature, ozone concentration or the use of plastic in the pieces, as these are surfaces where the virus manifests itself more.



7. TRANSPARENT MASK
LEAF was developped in the USA comes LEAF mask, the first and most effective transparent mask in the world. It allows the face to be always visible, besides making it easier to read lips and facial expressions. It is the first registered mask to have the N100 air filter and also a purifier in UV-C light. It was developed in recyclable and reusable materials with an aerospace filter called HEPA and a rubber edge made with silicone that adapts to the shape of the face.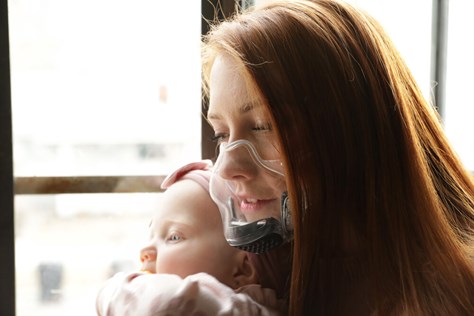 8. ROBOT DOG
Also in the USA, specifically in Massachusetts, Spot, this robot dog from Boston Robotics has helped healthcare workers reduce their risk of exposure to the virus during quarantine. Using an iPad and a bi-directional radio mounted on the back of a robot, healthcare providers can hold video conferences with patients as they remotely direct the mobile robot through lines of sick individuals in tents. With this setup, doctors can talk to patients from far away, possibly even from their own homes.
They plan in the future to install new technology to measure patients' body temperature, pressure, heart rate and oxygen rate, as well as a UV light on their backs to kill virus particles.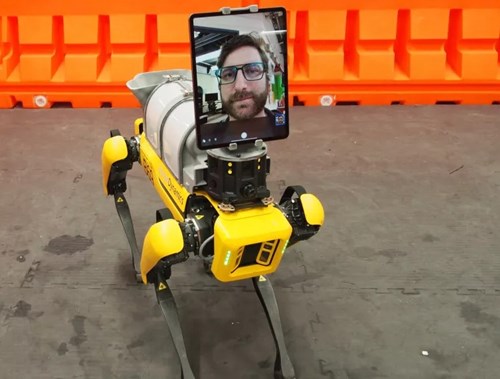 9. FUTURISTIC HELMET
From China came a futuristic helmet that serves to measure the body temperature of passers-by in several places and that was implemented in Italy, more precisely at the Rome International Airport, a place that concentrates a lot of daily traffic.
Named N901, the helmet, created by KC Wearable, allows the authorities present at the airport to measure the temperature of passers-by live, without the need to point thermal sensors. The measurement is possible thanks to a thermal camera that captures images in real time attached to the side of the helmet. If a temperature above 38 ºC is detected, the person wearing the helmet is alerted immediately.
Although it is possible to measure people's individual temperatures, there is a "large scale" feature that shows, by means of heat maps, the body heat reading of several individuals. For the protection of those wearing the helmet, the device's software allows measurements at distances considered safe - from 2.5 to 4.5 meters.Da China surgiu um capacete futurista que serve para medir a temperatura corporal de transeuntes em vários locais e que foi implementada em Itália, mais precisamente no Aeroporto Internacional de Roma, local que concentra grande movimentação diária.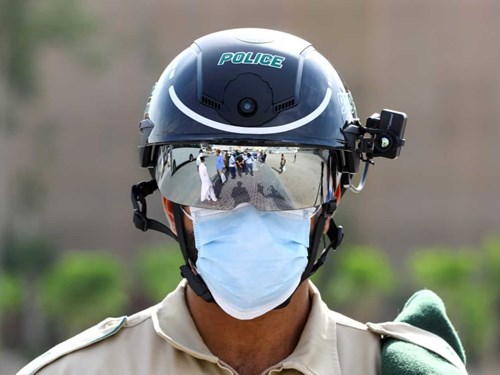 10. INTELLIGENT BRACELET
This bracelet - the only product from a startup - was a bracelet designed specifically to help people suffering from certain types of neuro-behavioural disorders, such as hair pulling or nail biting. The bracelet, which works by buzzing when its wearer moves their hand somewhere it shouldn't go, was typically sold to a specific medical audience.
With the arrival of the pandemic, touching your face was the most ill-advised gesture to help prevent the spread of COVID-19, so the product was suddenly relevant in a new context. The company relaunched its existing wristbands under a new name ("Immutouch") and began selling them on a separate website with notices from the World Health Organization, the CDC, and Harvard Medical School.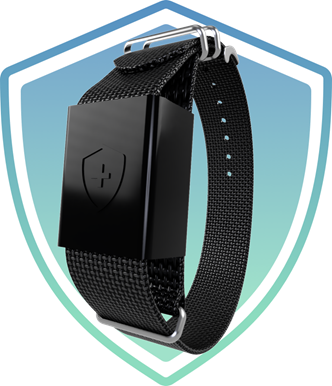 But several other companies adjusted or converted their production in order to respond to the needs arising from the fight against the pandemic, such as cotton swabs companies that started producing swabs or several textile companies that started producing masks. And, nowadays, the common citizen has access to a huge set of materials and tools that can be useful in this creation process.

There are also numerous platforms and open-source software that can be used in the development of innovative projects. 

At EUIPO, in the middle of a pandemic year, there were 96,962 applications, 93,311 published trademarks and 90,872 registered.
By comparison to 2019, where applications were 108,758, published marks were 106,466 and a total of 97,753 marks were registered. Unlike the US and China, the number of trademarks registered did not change much from year to year in the EUIPO. 
So this means that IP lawyers continue to work from home to file applications and businesses continue to invest in protecting their IP.
And for those who do trademark management, it is essential to have a platform like Rolling Trademarks: with centralised information and that allows to manage, in an easy and efficient way, all the activity related to the registration of a national, European or international trademark.