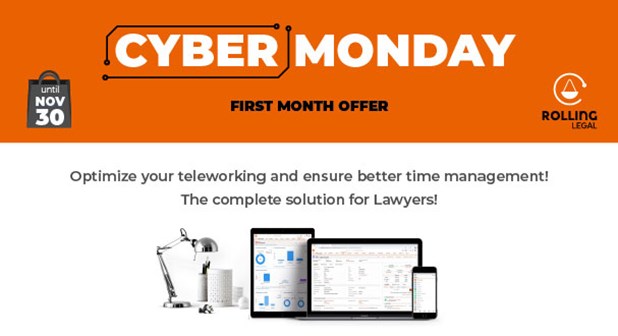 1ST MONTH FREE ON YOUR LICENCES!



Cyber Monday has arrived at Rolling Legal!
Get the first month free on your licenses by 30 November 2020!
Rolling Legal leverages the growth of its business with a set of tools that increase productivity and efficiency
of the team!
- Free up your activity for more important matters by automating the most recurring tasks.
- Increase invoicing by easily recording the time spent with a client and/or cases and associating the respective expenses.
- Optimize your time by quickly accessing the entire history of each case anywhere.
-Provide security, anonymization, data portability, consent, etc. in accordance with the GPDR.
- And much more!
Learn more about this innovative platform that allows you to manage all your activity, anywhere and on any device. It is perfect for teleworking! 
Don't miss this Offer!